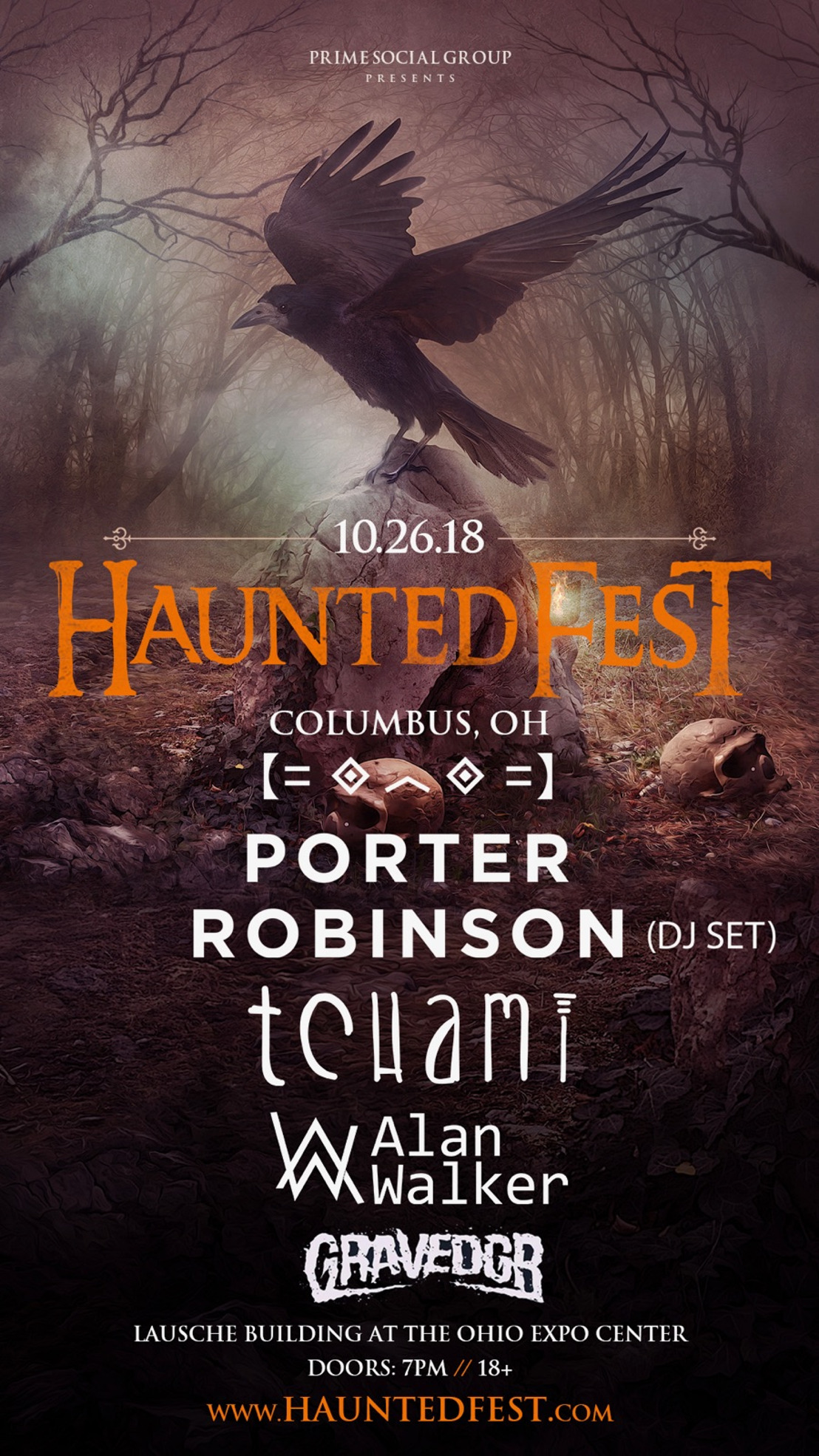 Tchami + Alan Walker To Stack the Bill for Ohio's + Indiana's Largest Halloween Party, Haunted Fest on October 26th
With a Special Set from Porter Robinson for Haunted Fest, Columbus
Thursday, August 16, 2018 —
Today, Prime Social Group announces their lineups for its signature Halloween events, Haunted Fest, which will return to Indianapolis, IN, and Columbus, OH. Both festivals are set to take place Oct. 26th, bringing world-class productions to Indianapolis' Pavilion at Pan Am and Ohio Expo Center's Lausche Building.
Haunted Fest will continue to be the to-go Halloween party destination for Columbus and Indianapolis, raising again with some of the newest and oldest key players in the EDM industry including reigning powerhouse Porter Robinson, future house producer Tchami, Norwegian progressive DJ Alan Walker, and up and coming hardstyle bass GRAVEDGR, and up and coming percussion-heavy duo DROELOE. Local mainstage and silent disco DJ's will be announced in the following weeks.
"This year's edition of Haunted Fest is going to be a special one being our 5th Year Reunion in Columbus and our 2nd consecutive year in Indianapolis. We have some amazing talent lined up to play one of the nation's largest Halloween parties." Zach Ruben, co-founder of PSG said.
Porter Robinson will be taking the mainstage bringing his complex yet catchy, and classic yet cutting edge sound to Haunted Fest in Columbus. He rose to fame when he signed a one-EP deal with Skrillex's OWSLA label, releasing Spitfire for the label in 2011 which had so much demand that the server crashed of a prominent online retailer. When Porter's debut studio album Worlds was released in 2016, he embarked on a new live show that involved singing, synthesizers, and triggering samples, and plans to bring his awe-inspiring live production to this year's festival.
Also heading the bill is one of the main drivers in the future house movement, Tchami, pushing dance music forward by sticking to the core underground electronic beats while adding new and innovative sounds and textures to create upbeat party sounds. Coming off the heels of his successful international "No Redemption" tour with fellow french DJ Malaa, Tchami is best known for his tracks Promesses, After Life, and Prophecy.
Also helping to stack the lineup is producer Alan Walker, who is ranked Spotify's 78th most listened to artist by monthly listeners, attributed to his first hit Faded, which entered the top charts of ten different countries. At just 18 years, Alan Walker was signed to Sony Music and continued to produce international bangers like Alone, All Falls Down, and Tired.
"This year, we wanted to put together a lineup of artists who are moving the needle and are furthering the electronic music genre. We believe we achieved that, and are excited for this year's attendees to experience these incredible artist's performances!" says Jordan Canada, Director of Operations for Prime Social Group.
Haunted Fest debuted in 2014 at The Columbus Convention Center then re-emerged in 2015, finding its new home at the Ohio Expo Center and later expanding to other markets like Indianapolis.
Tickets are on sale now at www.HauntedFest.com. Tickets start at $40. General Admission, VIP and VIP tables are all available for purchase on the website. This event is 18+ and indoors. Click here for last year's official recap video.
For more ticketing options plus information on topics including vending, local support or general festival inquiries visit www.HauntedFest.com. You can find us on Facebook, Instagram and Twitter using hashtag #HauntedFestIndy and by following @HauntedFest.
Prime Social Group
Facebook | Instagram | Twitter | Web
Prime Social Group is based in Columbus, OH. The "Haunted Fest" brand is one of over 16 festivals produced annually by the fast-growing full-scale production and promotions company. Headed by Adam Lynn and Zach Ruben, the PSG team has produced more than 800 events around the world from the Midwest, to Barcelona, to Puerto Vallarta and more. To learn more about the company, please visit www.primesocial.com and follow @primesocial on social media.